BOSTON, MA – Violent Torpedo of Truth.  If you had expectations going into this show, you were going to be disappointed.  The fact that I didn't know what to expect is what made me want to go in the first place (and probably most of the crowd).  It was a mystery going in, which is what made it fun.  Tickets to go see Charlie Sheen?  What do you think he's going to do?  Well, appartently he didn't even know what he was going to do because there is literally no script. NONE.
The entire "show" is driven by the audience, so if the audience is engaging and playing along, it's a fun ride, if not it'll go sour like Detroit.  The thing with Boston is that the people in the audience killed the second half of the show.  The first half was random, fun, and interactive, but then the "Q&A" segment just kept going on and on, and people were asking the same damn questions: (1) Can I hug you? (2) Can I get a picture with you (3) Can you sign this?  You could tell Charlie was getting annoyed with this because people had the chance to ask him anything and they were asking him stupid stuff, which effected the outcome of the show. This got the crowd frustrated and a little bored.
Let me take a step back and break down the show.  Here's how it all went down:
—————————————————————————————

-Opening:  Tons of applause, lots of energy, talking about how great Boston is:
-Q&A session: Charlie's sidekick asking him a couple questions, then his sidekick going out into the audience, letting them ask questions (including Rich Shirley from 98.5 The Sports Hub):
-Goddess #3 Contest: This was probably the high point of the show.  During the crowd questions, some guy asked "Would you like to party with these goddesses" or "Can one of these girls be goddess #3?"  This lead to 3 girls going on stage to be judged by the crowd.  Before starting the official judging, they asked any other girls who want to be "Goddess #3″ please come up now.  There ended up being about a dozen girls on stage, the majority of got booed.  There were only 2 girls who actually received applause.  One girl he named "Huggie," who was stoned out of her mind, and then a girl in a pink dress, who should've won.  Needless to say, Huggie won.  Good for her.
-Q&A:  More Q&A from the audience (the majority were pretty bad questions)
-Pauly D:  This was random.  Pauly D from the Jersey Shore came up on stage out of no where to talk with Charlie.  They really didn't say much, but Pauly D wants Charlie to be on his "NEW" TV show or at least an episode of it.  Here's another clip I took:
BREAK:  Charlie took a brief break, went back stage, and showed this clip from his YouTube channel:
-Q&A: This is when the show took a turn for the worse.  Everyone was expecting something different, but he came out and did the same damn "Q&A" from before.
-Vinny Paz: Boxer Vinny Paz came on stage and literally no one know who he was… sorry Paz
-Q&A:  This was the end… The crowd had had enough and Charlie was all caught up talking about "Two and a Half Men" and returning to the show, and television, and possibly Major League 3.  It got old and people started leaving.  Here's a clip of the end:
—————————————————————————————
Anytime the show got boring, he would just say something like "Red Sox," or "I love Boston," or something that people couldn't boo and had to get excited about.  This gave him time to figure out what the hell to do next, which wasn't much.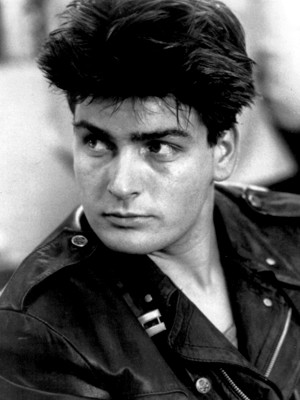 If you had expectations going in, you definitely hated the show.  If you just wanted to see Charlie Sheen be ridiculous, then you kind of got your moneys worth (depends on how much you paid!).  One thing that really annoyed me was him using his catch phrases too much.  Those are really old and people have already heard them.  It's not like he was coming up with new crazy catch phrases, but instead just talked about "Winning" and "Warlocks" and "Trolls."  People wanted something NEW, and didn't get it.
The thing that really shocked me was when he talked about "Can't is the cancer of happen?"  I agree.  If you say you can't do something or if someone tells you that, it has an effect on something you wanted to do actually happening.  It makes sense.  What didn't make sense was the very next question was: "Can I smoke a cigarette in here?"  And Charlie Sheen told him he can't!  WHAT?!?!  Charlie said: "I don't think so, I'm the only one allowed to smoke, you can't" right after telling people to do what they want.
OVERVIEW:  All and all, it wasn't that great.  I didn't know what to expect and I really didn't see much.  I bought two tickets that were originally $89 each for $20 each, so at least I didn't get screwed over like some people.  I had fun, but I wish there was more stand up and jokes rather than just dumb questions from the crowd.  Maybe it was just Boston, but in a show that's driven by the audience asking questions, if there isn't good questions, it's not going to be entertaining.  End of story.
Some people were saying that "winning" was really "boring."  I have to admit, I was bored at times.  The second half of the show was brutal, but the first half had some energy.  One thing that really made me think about whether I enjoyed the show or not was listening to Toucher & Rich last night on 98.5 The Sports Hub.  They were so entertaining that they should be on tour with Charlie asking all the questions.  They were going through his cell phone, calling random celebrities, which they actually got a hold of a few of them.  I didn't really enjoy the show I paid for so much, but that radio show after (until 2 am) was amazing.
Please leave comments if you saw the show
Also check out my YouTube Channel for more Charlie Sheen clips